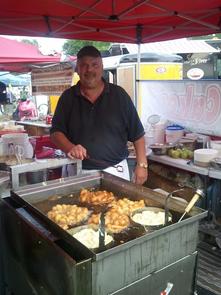 Welcome to the Apple Fritter Factory

I started the Apple Fritter Factory almost 7 years ago, in my garage. After months and months of product testing, I had finally impressed my #1 food critic (my mother) and decided to venture out for a permanent home for my business. I opened our retail location inside the Pickering Markets and I am proud to say, we haven't looked back since!

Using traditional Pennsylvanian Dutch batter and local apples, we started pumping out apple fritters and funnel cakes to our local community. Soon after, we expanded our product line to include more "fun foods" such as deep fried candy bars, Oreos, cookie dough, savoury items such as pickles and other veggies, Kool-Aid slushies, fudge, nachos and much more! We want everyone to have the fun food experience we offer at the Apple Fritter Factory.

To help us achieve this goal, we started travelling the road to local events in the community in our 'big red' trailer – helping us bring the fun food experience to residents throughout the province of Ontario.

In late 2013, we said goodbye and traded in 'Big Red' and purchased a food truck for the 2014 event season. Last year, we completed a record number of 10 community events in our new food truck.

After many physical improvements and cosmetic enhancements in the off season, we started the 2015 event season with a BANG!


the 2016 season will be just as great as last year! This year, we will be focusing solely on food truck events and made the hard decision to move from our pickering markets location in January 2016. Be sure to check our events page to see where we will be located this summer!


---
---